On the Cutting Edge...For 44 Years and Counting!

One glance at Rasch Graphic Services Corporation and you know there's something different about this Houston bindery. From its 46,000 square foot facility...to its equipment...to its employees, there is unquestionably a high standard for quality and performance.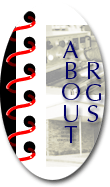 It's all part of the "big business" posture that has helped this 44-year company endure the rise and fall of the economy while managing to constantly climb upward. The key, says president Randy Rasch, is "diversification."
And, indeed, this company isn't afraid of change. Each year brings new equipment and new services, along with a progressive attitude that adapts easily to its ever-changing marketplace.
"Our customers today are not the same as they were 25, 10, or even 5 years ago. Their needs aren't either, so we're constantly monitoring the market to see how we can make ourselves more attractive and serviceable to printers of all types and sizes," says Rasch.
Along with all the high-speed, cutting-edge technology lies an honest, genuine interest and concern for the employees and customers who support the company. Many of the company's 55 employees have been dedicated for more than 15 years. So have many of its customers, and the reason is evident.
"We know that customer service is the number one reason people become long-term customers with repeat business. We construct everything we do around providing the absolute best service to our customers, down to the finest details. With that philosophy, we're sure to also offer the best quality."
It's this attitude and those details that set Rasch Graphic Services apart from the competition. Every job includes the benefits of professional labeling and packing, security gates, insurance, and dependable, high-speed equipment. Experienced and conscientious Customer Service Representatives provide personal attention to all customers, as do Randy Rasch and vice president, Brandon Rasch. And, on a quarterly basis, the company issues its newsletter, The Finishing Touch, to educate printers about the specialty of bookbinding.
All in all, Rasch Graphic Services Corporation has managed to combine the support and personal attention of a small company with the professional, high-output image of a large one. It is by far the area's most modern, innovative bookbindery, and a great asset to any printing enterprise.

Call 1-800-785-5750 or Submit Your Specifications.

PUR Binding | Perfect Binding | Saddle Stitching | Mechanical Binding | Tab Cutting | Support Services | About Rasch Graphic Services | Request More Information | The Finishing Touch Newsletter | EMail RGS | Home Page





8648 Glenmont Drive, Suite 100 • Houston, TX 77036
Phone: 800 / 713-785-5750 • Fax: 800 / 713-785-5801