Large job or small. Folded signatures or flat sheets. Rasch Graphic Services can accommodate the needs of any size printer, efficiently and economically, with our skilled operators, multi-binder and the top-of-the-line McCain saddle binder.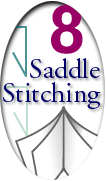 McCain 2000XL Saddle Binder
Output: 13,000 per hour
Maximum book size: 11 1/2" X 18 1/2"
Minimum book size: 3" by 6"
Face trim up to 2 1/4"
Head and tail trim up to 1 3/4"
6 pockets
Cover feeder with in-line scoring and folding
Fenimore 920 Sidewinder
Output: 5,000 per hour
Maximum sheet size: 11 1/2" x 18"
Minimum sheet size: 4 1/8" x 7 1/2"
12 pockets
Hand feed station
Collate up to 75,000 sheets per hour
Saddle stitch
Collate and corner/side stitch

Call 1-800-785-5750 or
Submit
Your Specifications.

PUR Binding | Perfect Binding | Saddle Stitching | Mechanical Binding | Tab Cutting
Support Services | About Rasch Graphic Services | Request More Information
The Finishing Touch Newsletter | EMail RGS | Home Page





8648 Glenmont Drive, Suite 100 • Houston, TX 77036
Phone: 800 / 713-785-5750 • Fax: 800 / 713-785-5801