Folding/Gate Folding
From single sheet to 48-page signature. From standard folding to single or double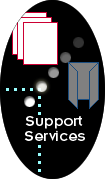 gate folding. The folding possibilities are countless at Rasch Graphic Services. In-line rotocreasing, perforating, scoring, and slitting available. And now RGS offers gatefolding for even more folding options! Please call for specific details on any job.
Maximum sheet size: 30" X 50"
Special Reference Article: Neatness and Details Count in Folding

Collating
Flat sheets or folded materials. Our variety of high-speed equipment offers over 50 pockets to collate your job. Up to 60,000 pick-ups per hour.
Maximum sheet size: 12" X 18"
Minimum sheet size: 4" X 5"

Shrink Wrapping
One of RGS' newest additions is our versatile, fully automatic Shanklin shrink wrapper. Whatever packages you have--no matter how big or how small, how few or how many, we can handle them--all at a fierce 2,100 packages per hour.

Packages from a tiny 3" x 3" to a huge 21" x 33", up to 8" tall. Up to 2,100 packages per hour.

Letter Press
For those special finishing effects, Rasch Graphic Services' letter press department provides perforating, numbering, scoring and die cutting of sheets up to 10" X 15".

Other Support Services
No detail goes unnoticed at Rasch Graphic Services. You get all the finishing touches!
Precision cutting with our 54" program cutting system
State-of-the- art, robotic assisted jogging, weighing and stacking
Fulfillment services
Variabe Data book production
Multiple head drilling
7-hole aviation drilling attachment
Product Storage
Round cornering
Hand stitching up to 2" thickness
Eyeletting
All types of hand work
Labeling
Shipping

Security
Your job is safe with Rasch Graphic Services. We take every precaution possible to protect the safety and confidentiality of you, your project and your customer, including:
Security gates
Security cameras
Fire suppression systems
Limited plant access
Strict confidentiality code among employees
General liability insurance
In addition, Rasch Graphic Services carries Workers' Compensation insurance and is a safe, smoke- and drug-free workplace.


Call 1-800-785-5750 or Submit Your Specifications.


PUR Binding | Perfect Binding | Saddle Stitching | Mechanical Binding | Tab Cutting
Support Services | About Rasch Graphic Services | Request More Information
The Finishing Touch Newsletter | EMail RGS | Home Page





8648 Glenmont Drive, Suite 100 • Houston, TX 77036
Phone: 800 / 713-785-5750 • Fax: 800 / 713-785-5801