With our Scott TEN THOUSAND®, we're cutting custom tabs of all sizes and colors with both tab and edge mylar reinforcing!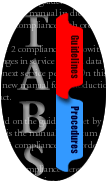 Automatic and hand-punch equipment make every job, large or small, quick and economical. Now offering 1/4", 1/2" and 3/8" tabs!

Twenty Mylar Colors available.

Minimum sheet size: 5" X 5"
Maximum sheet size: 13 1/2" X 13 1/2"
To make laying out your tabs easier, we've provided this downloadable Tab Layout Guide.

Tabbed dividers are a popular and effective way of organizing information, and though sometimes they are considered the "no brainer" elements of a project, there are many variables in producing and finishing tabs that require careful forethought.
Index tabs are most commonly used for projects bound in three-ring binders, but are becoming often found in Plastic Comb, Plastic Coil, and Double Loop Wire bound books. In all cases, there are many tab questions and issues that have to be considered prior to production, such as:
Depth of tab
Size of bank
Width of tab
Inset
Number of sets
Mylar reinforcement
Color of mylar
Body copy on the tab sheet
Edge reinforcing
Special finishing

Depth of Tab
This is the distance which the tab extends from the edge of the sheet. The depth is usually 1/2", though 3/8" is also popular. Other sizes like 1/4" are available with the appropriate dies.

Size of Bank
"Bank" refers to the number of divisions made along the stretch of the uncut sheet. If the edge will be divided equally into five parts, then the tabs will be considered 5-bank tabs. The higher the bank number, the smaller the tab and the more collating required to make a complete set.

Tab Width & Inset
The width of the tab can be figured by dividing the length of the uncut sheet by the size of bank desired, minus the inset size on each end. The inset is the distance from the edge of the uncut sheet to the beginning of the tab arch. Usually 1/4" or 1/2" on each side, the inset can be adjusted to any size.
Example: The edge of your uncut sheet is 11". You want 1/2" insets on each end, and you like the look of 5-bank tabs. After the insets, the final edge area is 10". Divided by 5 tabs, the width of each tab is 2". This is important to figure so copy is set within the proper copy area.

Number of Sets
The number of sets is the number of completed banks of tabs within the book. When ordering, the job should be described in terms of the number of sets of X-bank tabs. This tells the bindery exactly the number of individual tabs to be finished. For example: 500 sets of 5-bank tabs equals 2,500 total tabs.

Mylar Reinforcement
Uncut tabs may be mylar reinforced for greater strength and colorful flair. When quoting and ordering, your bindery will want to know if you would like mylar reinforcement and in what color or colors. There are some eighteen or so colors available, including a customizable "Write-On", so whether you're trying to compliment a multi-color project or enhance a single-color job, there is an appropriate color. If tabs have been pre-cut to run through a Docutech or other copier, mylar reinforcement is not an option since it is applied automatically before tabs are cut.

Body Copy on the Tab Sheet
Printing additional copy on the body of the tab sheet is highly discouraged since mylar sealing is applied with extreme heat which could cause streaking and smearing of any ink or toner on the body of the tab sheet. There are heat-resistant inks and low-heat mylar for jobs that do contain body copy, but neither of these is a proven method of eliminating the risk of body copy being smeared. The only true test for tabs with body copy is to do a sample, and the only remedy is cutting and sealing the tabs by hand, which of course drives up the cost and production time.

Edge Reinforcing
Edge reinforcing is a clear strip of mylar that is applied to the spine of a tab to provide added strength. There is always the question of which side the reinforcement should be applied--the front and be visible, or the back and be hidden. Its another detail to consider and ask before placing an order.

Special Finishing
This refers to any other treatment to the tabs such as collating, 3-hole drilling, and shrink wrapping. These are all considerations that will be asked by your bindery.

Most Importantly
The most important thing to remember about index tabs is that even though they may not be as tedious as other processes in our industry, they are important variables in a successful project. And as a wise person once said, "Nothing is too simple that it can't be messed up."


Call 1-800-785-5750 or Submit Your Specifications.

PUR Binding | Perfect Binding | Saddle Stitching | Mechanical Binding | Tab Cutting
Support Services | About Rasch Graphic Services | Request More Information
The Finishing Touch Newsletter | EMail RGS | Home Page





8648 Glenmont Drive, Suite 100 • Houston, TX 77036
Phone: 800 / 713-785-5750 • Fax: 800 / 713-785-5801