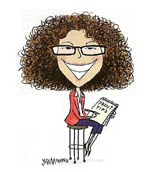 Margie's Print Tip
By Margie Dana


The Major Printing Processes - An Overview
New print buyers need a lot of basic education about printing. I like to start with a look at the most common printing processes. Companies usually specialize in one or two of these - not all of them.
OFFSET lithography is the most common printing process used by today's commercial printers. It includes sheetfed offset (stacks of sheeted paper loaded onto a press) as well as web offset. Web presses use webs or rolls of paper. In offset litho, the ink is "offset" or transferred from metal plates to a rubber blanket (cylinder) to the paper.
Most commercial printers do offset printing. It's is used for all run lengths - from short to long. Don't presume you know which press your job should run on. It all depends on the job. Particulars like format, paper and quantity help printers determine which press to use for maximum efficiency.
LETTERPRESS is a type of "relief" printing. It was founded by Gutenberg in 1440. In relief printing, the images on the plate are higher than the surface - think rubber stamps. Fine letterpress is being done by fewer and fewer printers, but it is absolutely gorgeous. Special printing equipment is required.
FLEXOGRAPHY is another type of relief printing. It uses flexible rubber or photopolymer plates and is a web process. Flexo is used for packaging products that include cardboard boxes, grocery bags, gift wrap, and can and bottle labels.
GRAVURE printing (AKA "intaglio") is used for printing millions of impressions - like magazines, newspapers, and direct mail catalogs. It's also used for upholstery and textiles, wall paper, plastic laminates, and postage stamps.
SCREEN printing was traditionally known as silk-screening, but today's screens are also made of fabric like nylon or Dacron, or even stainless steel, as well as silk. Ink is forced through a screen, using a stencil pattern. Typical uses are T-shirts, signage, point-of-sale displays, decals, and truck signage.
ENGRAVING produces the sharpest image of all. Steel dies are cut or chemically etched to hold ink. Paper's forced against the plate using tremendous pressure, causing an embossed (raised) impression. What's the dead giveaway for an engraved piece? Run your fingers over the back side of the sheet and you'll feel it. It's one way to tell engraving from thermography.
THERMOGRAPHY is another form of raised printing and is less expensive than engraving. It is achieved by using special powder that adheres to any color ink. Uses include all sorts of stationery products. Thermography doesn't require a die, as does engraving.
REPROGRAPHICS is a general term describing copying and duplicating. Think in-house copying departments and copy or quick printing shops. (Talk about an archaic term: every job is a quick printing job today.) Duplicates are made of your originals.
DIGITAL printing is the newest type of printing. Today's digital presses use either powdered or liquid toner or ink-jet technology. Manufacturers of digital presses include Xerox, Xeikon, Kodak, HP, and Canon, among others. Unlike other forms of printing, digital produces a brand-new image with every impression from a digital file. Digital is ideal for short-run, fast-turnaround jobs. You can print exactly the amount you need - no waste.Digital printing has improved tremendously - and keeps improving - in pricing, quality, and paper options. Most commercial printing firms offer digital, even if they outsource it. Variable Data Printing (VDP) is the name for digital printing that lets you personalize or customize every single copy. Words and/or images can be changed with each impression.

2008 Margie Dana. All rights reserved. For more of Margie's Print Tips, visit Print Buyers International.
About Rasch Graphics | More Information
PUR Binding | Perfect Binding | Saddle Stitching | Mechanical Binding
Tab Cutting | Support Services | The Finishing Touch Newsletter
EMail RGS | Home Page





7211 N. Gessner Drive • Houston, TX 77040-3143
Phone: 800 / 713-785-5750 • Fax: 800 / 713-785-5801