46,000 Square Feet of Fine Finishing at Rasch Graphic Services Corporation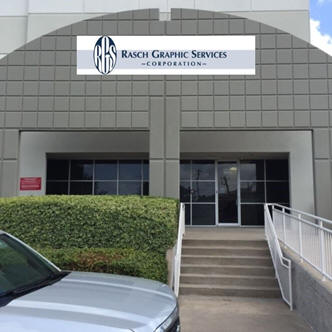 Rasch Graphic Services Corporation recently completed the move to 8648 Glenmont Drive, Suite 100, Houston, Texas 77036. The new facility contains 46,000 square feet of manufacturing area which adds 17,000 additional square feet when compared to the previous location. "We are 100% operational, and never missed a delivery during the move", says Mark Rasch, VP. Our new location is in SW Houston and is in close proximity to Hwy. 59, Sam Houston Toll Road and West Park Toll Road. Please come by and see the most efficient Printers Fine Finishing Service in the Southwest.
For more information please contact one of our team members.
All of us at Rasch welcome your comments!
Rasch Graphic Services Corporation is a privately-owned Houston-based trade bookbindery operating continuously for over 45 years.
For more information contact Randy Rasch at 713-785-5750 or rasch@raschgraphics.com.

Call 1-800-785-5750 or Submit Your Specifications.

PUR Binding | Perfect Binding | Saddle Stitching | Mechanical Binding | Tab Cutting
Support Services | About Rasch Graphic Services | Request More Information
The Finishing Touch Newsletter | Email RGS | Home Page





8648 Glenmont Drive, Suite 100 • Houston, TX 77036
Phone: 800 / 713-785-5750 • Fax: 800 / 713-785-5801