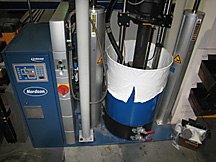 For those extra tough or extra special jobs that need extra binding power, there's PUR, and now it's running at up to 8,000 books per hour at RGS. With RGS and PUR you get above standard page pull, increased "lay flat" quality and extra binding strength for coated and mixed stocks. PUR provides unyielding quality and strength even in extreme and changing temperatures, and a tougher binding for handling those extra thick books.
Output: 8,000 per hour
Maximum book size: 12 1/2" X 15 1/4"
Minimum book size: 3 7/8" X 4 1/8"
Thickness: 1/8" to 2 3/4"
20-pocket gathering line
Side gluing with adjustable glue widths for crisp, beautiful hinges
Stream cover feeder for careful handling of special stocks and ink coverages
Guaranteed cover registration within 1/32"
"Inside" and "outside" layback scoring
Adjustable scoring from 1/8" to 3/8" from the spine
State-of-the-art carousel for ample dry time prior to trimming and packing
In-line 3-knife trimmer with spine knives to ensure minimal spine fracturing
and automatic counter stacker
Optical scanners for signature recognition


Allow a minimum 1/8" head, tail and face trim on inside text pages.
Allow 1/16" to 1/8" for "grind" on spine edge of inside text pages.
On the cover, leave an extra 1/8" at the head and an extra 1/4" at the tail of the untrimmed folded signatures. Very important!
Cover around back to front minimum overall 8 1/2".
Make certain grain direction of cover is parallel to the spine for a more durable bind.
Consult with RGS when designing your layout.
Remember, PUR has a 24 hour curing time requirement.
For detailed information on adhesive binding please read "Understanding the Facts About Adhesive Binding" in our newsletter, The Finishing Touch.

Call 1-800-785-5750 or
Submit
Your Specifications.

PUR Binding | Perfect Binding | Saddle Stitching | Mechanical Binding | Tab Cutting
Support Services | About Rasch Graphic Services | Request More Information
The Finishing Touch Newsletter | EMail RGS | Home Page





8648 Glenmont Drive, Suite 100 • Houston, TX 77036
Phone: 800 / 713-785-5750 • Fax: 800 / 713-785-5801